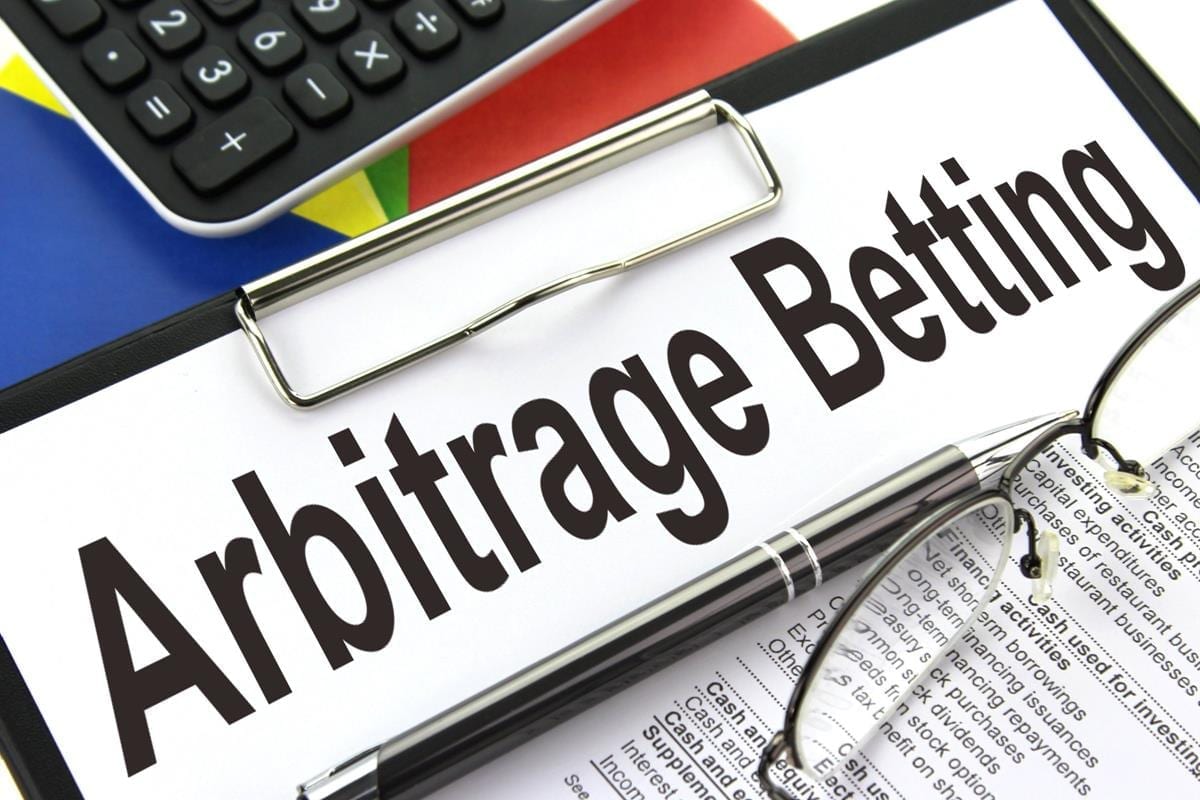 In simple terms arbitrage betting is the betting technique, where you place a wager on all eventual outcomes of an event that leads to a certain profit. The term 'arbing' derives from the stock market, traders would purchase an asset in one market while at the same time selling elsewhere from an increased price. Arbs betting is also known as sure betting, miracle betting or sure wins and is fundamentally a risk-free way of making money.
It may seem to good to be true, however, there are more occasions for sure wins than you may believe. The key thing about arbs betting is looking for inconsistencies in the odds given for a certain event. This enables you to wager on a particular result at an enhanced cost with a bookmaker or betting exchange, before betting against the opposite result at a favorable price on a different bookmaker or betting exchange. It's crucial to understand that matched betting is different to arbs bets. Matched betting is looking at promotions and special offers to make a profit.
What is an Arb?
 An ''arb'' is a phrase that describes an arbitrage bet. When you find favorable odds at two or more bookmakers for opposite sides of a bet, it's known as an arb. It can be difficult to get your head around and very hard to find these scenarios.  But, arb companies, like BetSlayer, identify the arb opportunities for you.  Identifying these opportunities would take an individual hours upon hours to maybe find one arb opportunity.  But, a company like BetSlayer, has done all the heavy lifting.
Is Arbitrage Betting Legal?
Arbs betting is completely legal; however, the bookies don't like people doing it. It loses them money and if you're a consistent winner, it could see your betting account being banned. The online bookmakers industry is in the bookmaker's industry. Matched betting and arbitrage betting are two of the ways we can turn the odds in our favour. Betting on too many of these arbs betting opportunities could result in the bookmakers closing or limiting your account.
How Much Money Can You Earn from Arbs Betting
If you're looking for consistent and stable profits, arbing is for you. Although, if you're looking to get rich quickly, arbitrage betting may not be the betting technique that gets you a quick profit. It isn't common to find an arb betting opportunity which offers over 10% in profit. The perfect method for arbing is frequently placing smaller bets which gives you small profits (3%-10%). You should aim to set up betting accounts with as many bookmakers as possible, in arbs betting it is important to look at a range of bookmaker's odds. People with a budget of £500 should make at least a few hundred to a thousand pounds in profit per month.
Sign Up to BetSlayer Subscription Service for Arb Betting opportunities
Earn a profit every month virtually ​risk-free with our arbs betting tips. Sign up now for a 7-day free trial.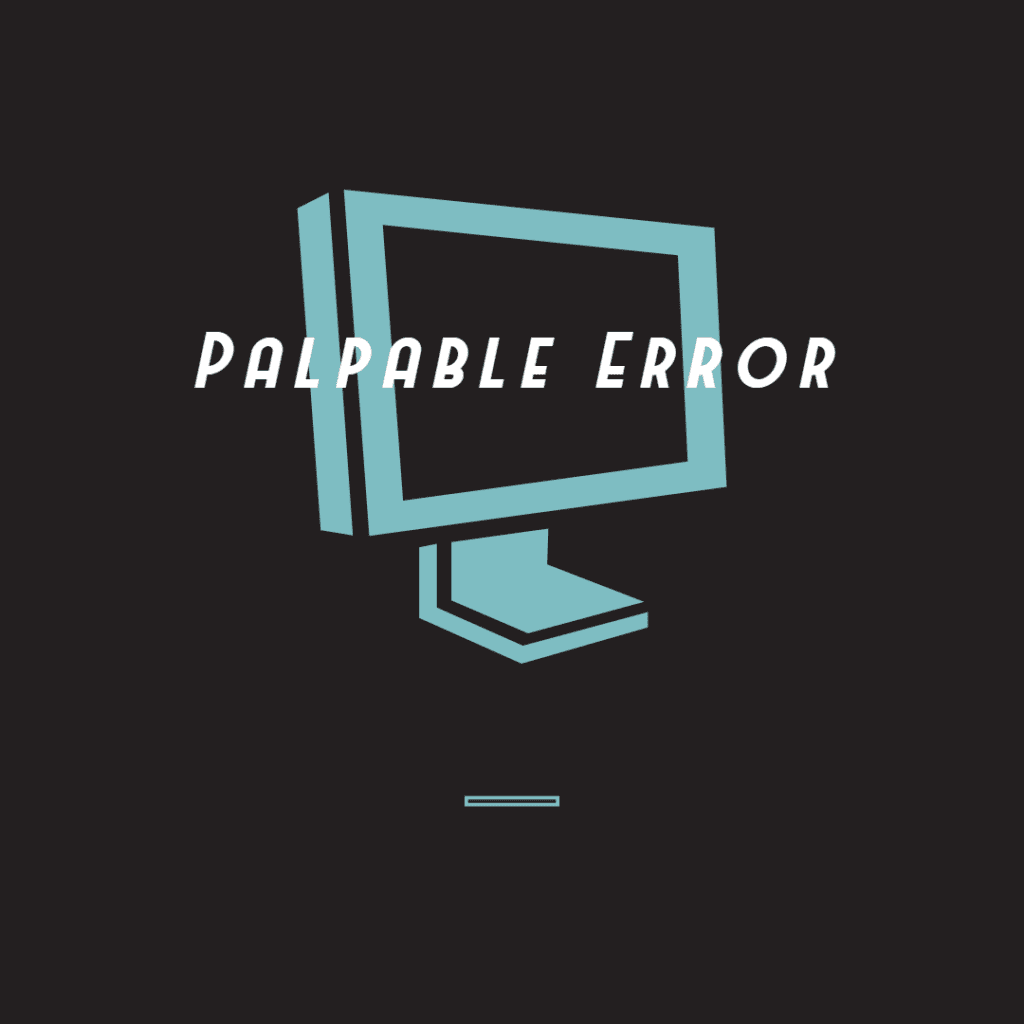 First, a quick review of arbitrage betting or sure bets. Arbitrage betting occurs when 2 or more bookies differ on the odds of an event. The difference is big enough where you can place a bet on all outcomes of the event and make a small profit. BetSlayer's website identifies the games, the bookies and does the math to determine if there is a betting arbitrage opportunity.
Wow! arbitrage betting sounds great. It is pretty cool. But, there are some pitfalls. Today, we will be discussing one of those pitfalls. Palpable Error or Obvious Error. A Palpable error occurs when a bookmaker has flipped the odds on a certain event. For example, the favorite is listed as an underdog or the favorites or underdogs odds are grossly understated.
Not to make anyone angry, but let's take an upcoming match Chelsea v. Aston Villa. Barring something crazy happening, we can expect Chelsea to be favored. Let say the odds to win (draw no bet) at most bookmakers look like this:
Aston Villa 4.0 (+300 for the Americans)
Chelsea 1.22 (-450 for the Americans)
In this situation, put up £100 on Aston Villa and return £400 (£300 profit) or put up £450 on Chelsea to return £550 (£100 profit). These odds make sense for these two teams and the expected outcome of the game. But, occasionally, the bookmakers flip the odds by mistake. Let's say William Hill, a well known and reputable bookmaker, flips the odds to:
Aston Villa 1.22
Chelsea 4.0
But, LadBroker's has the odds the correct way at:
Aston Villa 4.0
Chelsea 1.22
Between these two bookmakers, a huge betting arbitrage opportunity exists. If you put £100 on Chelsea at William Hill and you put £100 on Aston Villa at LadBrokers, then you have £200 at risk, but your payout is guaranteed at £400 (assuming the match isn't a draw). The £200 guaranteed win computes to a 100% return on your bet without any risk. Nowhere in the world is there a 100% return without any risk. Certainly, not in any betting arbitrage scenario.
So, what happens? Most likely, William Hill will recognize this error. They will call it a palpable error and void the bet.
Uh oh, I already placed the other side of my arbitrage bet at LadBrokers. What do I do now? William Hill's timing to reverse the bet is the key. There are three scenarios:
William Hill voids the bet before the match starts – This gives you an opportunity to hedge your Aston Villa bet. Since the match did not start yet, you can look for the best odds at another bookmaker to hedge on Chelsea. Let's say you can find Chelsea 1.28 at Paddy Power and put up £312 that returns £399 for a profit of £87. If Chelsea wins, you have minimized your loss from £100 (original bet on Aston Villa) down to £13 (£87 win on Chelsea – £100 loss on Aston Villa). If Aston Villa wins the match, you will lose £12 (£300 win on Aston Villa – £312 loss on Chelsea). If the match is a draw, then no harm no foul as both bets return to you. Below is visual presentation of this hedge scenario: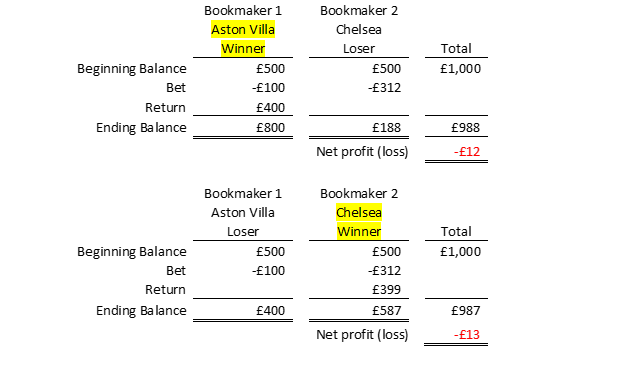 2. William Hill voids the bet during the match – This is a little trickier. Many bookmakers have in-game wagering. During the match, you will be offered a moving line as the bookmakers continually adjust the odds based on game action. You can find a line to hedge your loss as discussed above. Or there may be an opportunity to execute a profitable arbitrage.
In the arbitrage scenario, let's say Aston Villa scores 25 minutes into the match. After the goal, the odds that Aston Villa wins and Chelsea loses changes. So, the in-game wagering could look like Chelsea 1.4 (instead of the pre-game odds of Chelsea 1.22). Now, you have an arbitrage opportunity.
You could place an in-game bet on Chelsea of £287 to return £401 (a profit of £114). So, if Chelsea comes back to win the match, you win £114 on the in-game Chelsea wager and lose £100 on the originally Aston Villa wager. This nets you a profit of £14. On the other hand, if Aston Villa holds on and wins the game, you will receive £400 (£300 profit). The £300 profit on Aston Villa less the £287 in-game wager on Chelsea nets you a profit of £13. You now have a good arbitrage bet in place where you win no matter which team wins the match.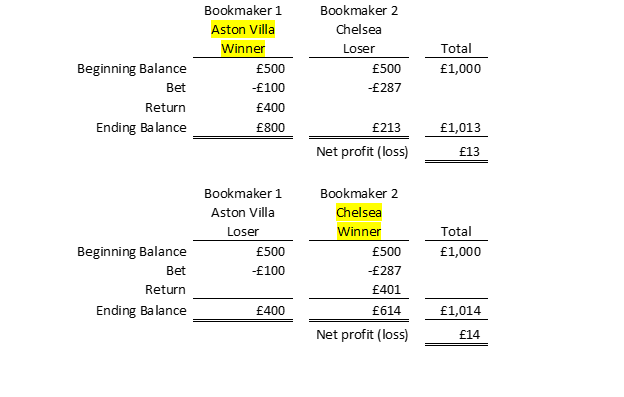 3. William Hill voids the bet after the match – Here you are SOL. Can this happen after the match is over? Sure, most bookmakers include the ability to void a bet especially in the case of a palpable error.
So, what does this all mean? It means be aware of the really good-looking betting arbitrage returns. Anything 10% or greater is at great risk to be called a palpable error. When your arbitrage return is under 10%, the chance that a bookmaker will call a palpable error declines dramatically. BetSlayer's website clearly identifies the percentage return to help you navigate your way through this potential pitfall.
As always, comments and questions are encouraged. Happy Arbing!
Since you made it this far, please feel free to sign up for the free, no credit card required 7 day free trial.  When you are ready to get access to all of BetSlayer's system, use code GO19 to get £30 of your first month (£49 per month thereafter).