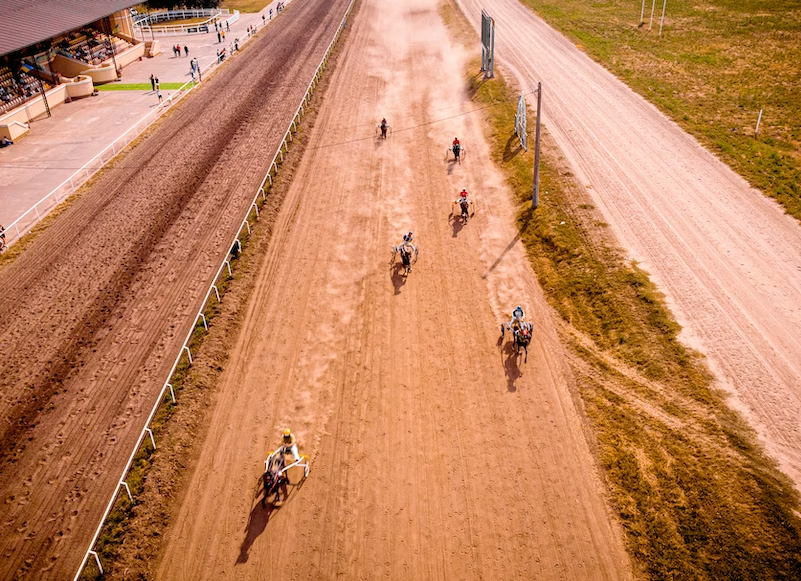 Preakness Stakes is an annual American thoroughbred racing competition held at Pimlico Racecourse, Baltimore, Maryland, traditionally every third Saturday of May. The inaugural race of the Preakness Stakes took place in 1873 at Gravesend, New York.
To help you determine which horse will prevail in the second leg of the Triple Crown Series, let's explore the factors affecting the race's outcome and the leading horse to conquer the upcoming race.
Factors Affecting Horse Racing Outcomes
Every horseracing event is different. From the official distance and surface to race type, every horseracing competition has unique features and qualities that draw spectators in. However, when it comes to betting on preakness stakes, there are common factors that you have to consider. Check out our guide below to learn more about these factors. 
Victorious sires bred many promising thoroughbreds out of successful dams. Their parents were decent indications that they could perform well in a specific race. By looking at the sire's running style, you can tell if the horse can excel on a track. You can also check out further bloodlines like the grandsires and grand dams.
You can also look at the siblings' achievements and observe how many starts or wins they have collected throughout their careers. By looking at their siblings' distance and surface preferences, you can gauge a thoroughbred's capability to win in an upcoming race.
2. Jockey Skill and Experience
Many successful jockeys have outstanding experience in different kinds of races. While rookies have the chance to win their first races, jockeys with a long history of racing have better chances of winning.
Many believe a great jockey can excel in a race when paired with a good horse. Moreover, riders who have ridden a horse multiple times already have a good chance of winning upcoming races since they are familiar with the horse and they have established a strong connection with the horse, resulting in the horse's increased confidence.
Of course, it's important to check if the horse you will be backing is conditioned to run in the race. Before any race, the horseracing event's team would administer a veterinary assessment to evaluate the horses' suitability to race at the starting gate.
You can only do so much about this as a spectator since the assessment would be done hours before the race. However, you can check the participating horses' previous history of injuries and other health issues. Moreover, when horses are paraded in the paddock, try to observe if they are showing signs of anxiety or exhibiting gestures of confidence.
There are two major tracks to consider when betting: dirt and turf. It's important to know that track conditions can affect the horses' speed and overall performance in the race. Let's say a good jockey is mounting a horse who has started on wet tracks thrice.
There's a strong possibility that the horse will perform well in an upcoming race held on a wet track. However, this shouldn't be taken solely at face value. Other than the track condition, check the race distance and class and see if the horse could win the race considering these factors.
The weather condition highly influences the results of any horseracing event. When the rain pours during the race day, expect the ground to be all mushy and wet. This could result in mud flying off the hooves in the frontrunners, making it harder for horses to remain focused on the track due to visibility issues. When it's humid, dirt tracks would be dry and solid, making it easier for horses to run.
However, horses are also vulnerable to hot weather, given their heavy body and reliance on sweating to cool down. The wind is another factor affecting a horse's performance in the race. While wind doesn't affect the track conditions, leading jockeys and horses will have a hard time staying on the front since the wind will be directly blowing on their faces.
Horses in the 2023 Preakness Stakes
Now that you know the factors that would influence a horse's performance in the Preakness Stakes let's look at the leading horses to enter the gate this May 20, 2023, at Pimlico Racecourse.
Javier Castellano mounted Mage to win the Kentucky Derby at Churchill Downs last May 6, 2023. In his career three starts, Mage has only one win prior to the 2023 Kentucky Derby. He finished the first leg of the Triple Crown Series with an official time of 2:01.57.
Trained by Brad Cox, First Mission won the 1 1/16-mile Lexington (G3) at Keeneland last April 15, 2023. He was racing for his owner, Godolphin, LLC. He was sired by Street Sense, the 2006 Breeders' Cup Juvenile (G1) champion and the 2007 Kentucky Derby (G1) titleholder.
Along with Mage and First Mission, the dark bay colt Confidence Game is another probable competitor in the 2023 Preakness Stakes. The cold has earned one win in his 2023 campaign through his impressive performance at the $1 million Rebel Stakes at Oaklawn Park.
As one of the most prestigious horseracing events in the United States, the Preakness Stakes also boasts its list of legendary horseracing champions who made horseracing even more remarkable. The race is just around the corner, and spectators are all hyped up for the big race. We hope that with the guide we have prepared for you, you are ready to choose which horse to support in the 2023 Preakness Stakes.
Sign Up to BetSlayer Subscription Service for Sure Betting Tips
Earn a profit every month virtually ​risk-free with our sure betting tips. Sign up now for a 7 day free trial.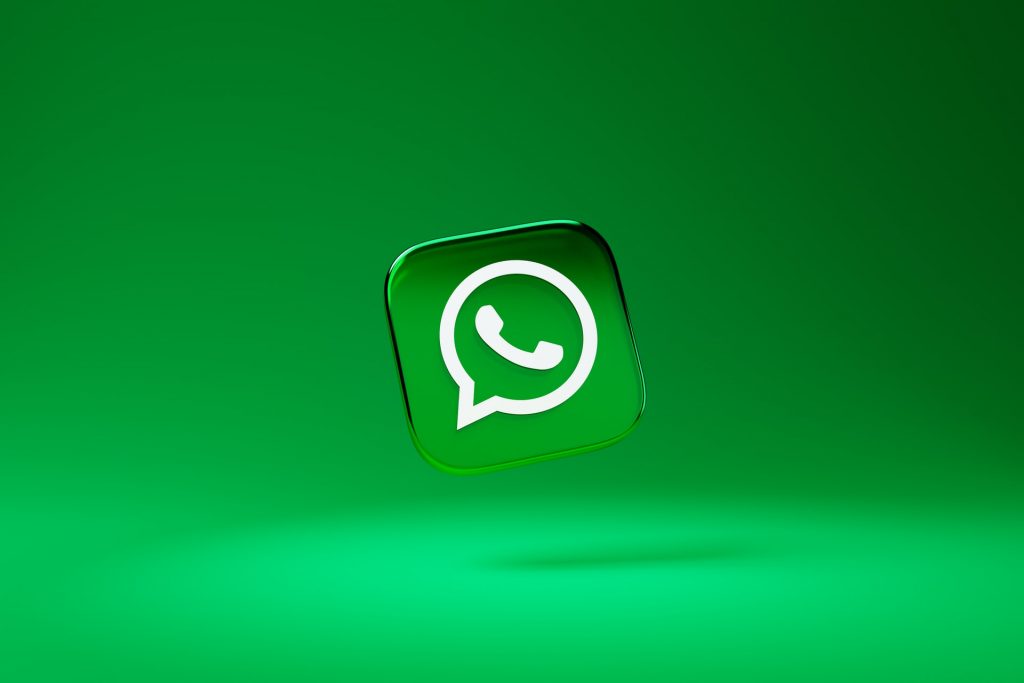 Usually we like to put great tips and information on how to sure bet in the BetSlayer blog. But, BetSlayer just launched a brand new feature where you can instant notifications when a new sure bet meets your criteria. In this post however, we will be talking about WhatsApp sure betting and how we at BetSlayer have utilised this social platform in order to notify our clients on when a profitable sure bet arrives.
What is WhatsApp?
First what is WhatsApp. WhatsApp is a very popular instant messenger service. It's like texting on your phone. But, it has a specific app. BetSlayer has hooked up their system to send out instant messages through WhatsApp when a new sure bet arrives in the account. You can set a threshold to only be notified if the surebet is equal or greater than your preset % return. Most people use 5%. In addition, you can select which bookies you get notified from. So, you are only receiving the sure bets that you want.
What is Our Exclusive Plan
The feature above is very popular in sure betting. It is only available in the Exclusive plan. One other benefit of the exclusive plan is that you will be able to designate 3 bookies that only you and up to 4 other exclusive customers can use. Once you designate a bookie as exclusive, only other exclusive customers can see sure bets relating to those bookies.
The Exclusive plan is great. It gets an arb to you quickly with a WhatsApp message and it limits the number of arbers who can see the sure bet. Both of these features allows the Arber to place the sure bet quickly and with little competition. To learn more about the exclusive plan, click here. Make sure to use promo code GO99 to get the first month at £99.
Sign Up to BetSlayer Subscription Service for Sure Betting Tips
Earn a profit every month virtually risk-free with our sure betting tips. Sign up now for a 7 day free trial.
Hedge betting is a great betting strategy that enables you to get a profit whatever the end result of the event is. This guide will give you some more information on how to hedge your bets and strategies of hedging that can lock in profit.
What is Hedge Betting
Hedge betting is the betting technique which takes advantage of movement in odds, you place two bets on the same event. Many people that hedge bet use betting exchange markets as they let users lay bets. The term lay bets means that you're betting on something not to happen in the event. You should back the higher odds and lay for the lower odds, this is where you start to make some profit.
This type of betting acts as a comfort blanket as there is no worry about losing money and your bet not coming in. It also is a betting technique that you can cut your losses. On the odd occasion you may place a bad bet or the odds don't move the way that suits you. If you're looking to get into betting, you need to be aware that you are going to lose sometimes, it's part of the process. Although, you can reduce the loss by placing a lay bet close to the original odds, this will decrease the loss significantly.
So… How to Hedge Your Bets
Hedging is an extremely adaptable betting strategy. There are occasions when you have to hedge your bets quickly and sometimes it may be weeks possibly months before you need to start hedging. This depends on whether you are hedge betting in-play or over a long period of time e.g. World Cup.
The Difference Between Arbitrage Betting & Hedge Betting
The main difference between hedge betting and arbitrage betting is the way that each strategy is used. Arbitrage betting is where you place two alternative bets on different outcomes at the same time.  It is only used when there is a variance between odds being offered by different bookmakers creates a arbs betting opportunity. Whereas Hedge Betting, is where you places further bets on different results following the original bet that is placed. This kind of betting strategy is usually used following a change in odds.
An Example of Hedge Betting
Let's say for example, you bet £50 on Sweden to win Euro 2020 at 40/1. If they got to the final of the tournament against Portugal you would be on the cupse of winning £2,000. Sweden would still be a massive outsider to win the tournament and Portugal would be expected to win. If Portugal wins, this would leave you with a £50 loss.
Stake
Odds
Profit
Losing stake
Net Profit
Sweden Win
(original bet)
£50
40/1
£2,000
-£1.150
£850
Portugal Win
(Hedge bet)
£1,150
4/5
£920
-£50
£870
Although, you could hedge your bets and back Portugal to win. If Portugal wins the game and the tournament, a £1,150 bet would give you a profit of £920 less your original £50 stake in Sweden leaves you with a net profit of £870 . If Sweden wins, your original £50 bet would give you a profit of £2,000 less your £1,150 Portugal hedge leaves you with a net profit of £850. It's important to remember to bet on Portugal to lift the trophy and not to win in 90 minutes. A draw would wipe this bet out.
In the above example, you have lots of room to play around with your hedge. If you want to win more money on Portugal, you can increase your Portugal hedge. For example, you could bet £1,500 on Portugal to raise the cup which would result in a net profit of £1,150 (£1,200 (Portugal win) – £50 (Sweden stake)). Or conversely, you could go for a big win for Sweden and do a small hedge on Portugal. It's really up to the punter. But, the key to hedging is locking in a profit.
Overall Hedge Betting is an effective strategy and it has proven that you can win some serious money. One thing to always remember with this betting strategy is weighing up the risk and reward. You don't want to be overly cautious and and implement hedging that reduces your profit.
Sign Up to BetSlayer Subscription Service for Arb Betting Opportunities
Earn a profit every month virtually ​risk-free with our arbs betting tips. Sign up now for a 7-day free trial.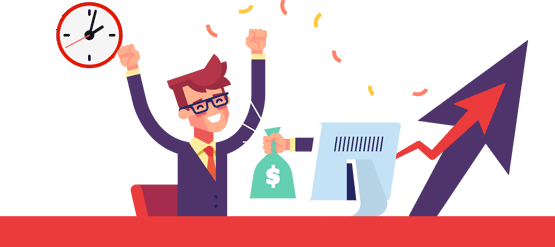 Sports betting is one of the most fast-growing and exciting ways to enjoy sporting events. Betting on sports events has been happening for hundreds of years, maybe longer in some ancient groups. In recent years, sports betting has seen a massive increase in popularity mainly due to the internet. This is attractive for many as this means that people can bet on the go without having to go into a bookmaker's shop. The convenience factor should mean that sports betting could see continued growth in the coming years. Sports betting is offered in almost every sport to ever exist including football, boxing & basketball. With sports betting you can go further than just betting on who will win the event, you can bet on what minute the first goal will go in or what round the boxing match will end. Sports betting is being developed continuously, with request a bet seeing a rise in popularity. This where popular bets that the public has asked for are now on the market. In this blog post, we will talk you through the advantages of getting into sports betting.
Increased Entertainment
Many people get into sports betting because of the entertainment factor. Viewing live sports is always exciting, however, if you're betting on the sporting event as well it can make it more thrilling. If you're watching games that you aren't interested in, sports betting is a perfect way to get you absorbed in who wins the game.
Affordable Fun
Some people may call you crazy for putting bets on sporting events, people will say this whether you're spending £5 or £500. They aren't giving sports betting the respect it deserves, it brings excitement to many people's lives. Look from the viewpoint that betting on sports events is like you're paying for entertainment; it is an affordable form of entertainment. However, there should always be limits to your betting habits. You should only put money on that you can afford on a bet.
If you think you have a gambling problem or know someone with a gambling problem, please click here.
Possibility of Making a Profit
Possibly the best part of about betting on sports events is that you can make money. Irrespective of the size of the bet you have placed, the feeling of winning money off your bet doesn't only give you a good feeling, it can help pad your wallet out. If you're great at predicting the outcome of sports events, sports betting could be for you.
Learning New Sports
Watching sports events is always better when you understand the game. It may take a couple of times of watching a sport to understand how it works. This means watching a new sport could prove boring and confusing, however, if you put a bet on the game it forces you to watch the sport and turn boring learning into exciting learning.
Simple to Get Started
Some sports take a while to get into and require expensive equipment to get started. Sports betting is the opposite, simply sign up to a betting app on your phone and start betting. You can simply put a limit of £5 on to get you started. With the growth of online bookies, you can bet on the go without having to go into bookmakers. It is most definitely one of the easiest hobbies to start!
In Conclusion
There are many positives in starting sports betting, however you need to bet the amount you feel comfortable losing. It's very easy to lose control when betting and can be dangerous for your health and financial wellbeing. Focusing on the positives though, betting on sporting events can be a great way to enjoy sports!
BetSlayer does not offer sports betting.  BetSlayer offers sure bets? Sure bets or sports arbitrage bets are when a punter makes multiple bets on the same event to guarantee a profit no matter the result of the match. Want to get started with arbitrage betting? Start now by signing up to our subscription plan to get all of the latest sure betting tips.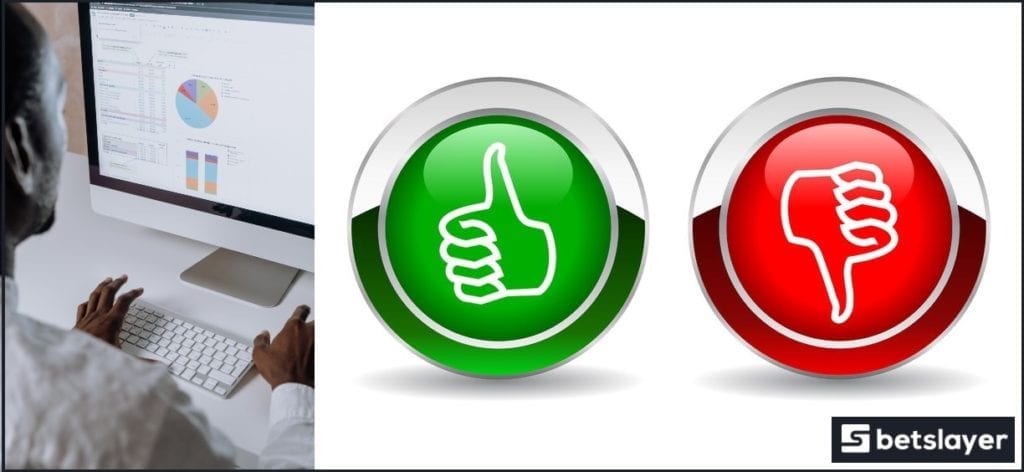 At BetSlayer, we get asked a lot of different questions around the sure bets or arbs.  These handy do's and don'ts apply to not only BetSlayer but to our more expensive competitors.
1. Don't Place a Bet without Checking the Odds First!
Before placing any bet, Always, ALWAYS! check your odds at the bookies versus the odds on the arb website.  Every arb provider has false positives.  This will happen when the bookies update their odds before the arb website.
2. Do Watch Before Jumping In
A common mistake is to start arbing right away. We know that you're excited to get in on the sure bet opportunity. However, it is a good idea to watch the sure bets. Go to the bookies websites and make "fake" bets first. By waiting you can start tracking which bookies work best for you; later you can take advantage of funding bonuses and then start arbing.
BetSlayer has a 7-day free trial.  This helps customers get acclimatised to the bookies and exchanges that they want to use.
3. Do Try and Round Your Bets to the Nearest 5 or 10
Some of the bookies do not look to fondly on arbers.  So, you want to keep a low profile.  Start with smaller bets under £100 and try to round your bets to the nearest 5 or 10.  Also…
4. Don't Bet Pennies
Make sure you round your bet to the nearest pound.  While you may not perfectly maximize the arb opportunity, betting pences is an arbing red flag for the bookies.
5. Do Give Some Back to the Bookies
If you are consistently winning at the same bookie, it is important to throw in a loss or two for smaller amounts of money.  While this may eat into some of your profits it will help reduce the risk of getting limited by the bookies.  A 4 team+ parlay is a good option for giving some quid back.  For every £100 of winnings, try a £10 parlay.
6. Don't Move Money In and Out of the Bookies
It's exciting to win money from the bookies.  However, it is important to keep the winnings held at the bookies for a decent amount of time.  Try to hold off on making too many withdrawals, aiming for one withdrawal every 3 months.  If you are moving money in and out of bookies it is a red flag.  You want to look like a punter not an arber.
7. Do Get a VPN
Some bookies limit the punter by geo-location.  To help increase your chances of placing sure bets, you should use a VPN.  There are a number of free and inexpensive VPN providers.  A VPN will give you the ability to switch from the U.K. to Hong Kong to Australia and even the United States.  We've experienced high success with ExpressVPN; here is a sign-up special offer and 30-day money-back guarantee.
8. Don't Quit Your Day Job
Arbing is a nice way to increase your overall income.  You can spend relatively small amount of time placing your sure bets.  You should however view this as extra income not your primary income.  Extra income from arbitrage betting can help you to catch up on credit card bills, buy extra Christmas or birthday presents, pay for a holiday or build up a rainy-day fund.  If you quit your day job, you will run the risk of being limited by the bookies with no warning and then you will have no income at all.  You should be very wary of any arbitage website that touts huge returns.
9. Do Watch the Time
The closer it gets to match-time.  The more likely the lines will move.  This will cause discrepancies between odds presented in the sure bets feed versus the odds at the bookie.  Most likely, the sure bet will not be there as odds are moving quickly.  This also brings us back to our first recommendation – Don't place a bet without checking the odds first!
10. Don't Get Frustrated
There are a number of factors that can affect an arbitage bet.  Fast moving odds, odds presented on your surebets site but not on the bookies website, arb % return not to your liking, etc.  Some days the presented sure bets on BetSlayer are great.  Some days the odds move or the odds are not on the bookies website and there can be some false positives.  Ensure that you don't get frustrated.  BetSlayer presents the top odds by bookie for each match.  So if the first bookie didn't work, see if the next bookie on the list will work.  Alternatively, if there is an over/under bet repeating that didn't work for a certain match, feel free to skip other over/under for the same match. 
The goal is to make some money each day. BetSlayer presents a lot of good, new sure bets every day. You will quickly gain experience to help identify good arbs quickly. The longer you put in the work the easier and more profitable sure betting will become.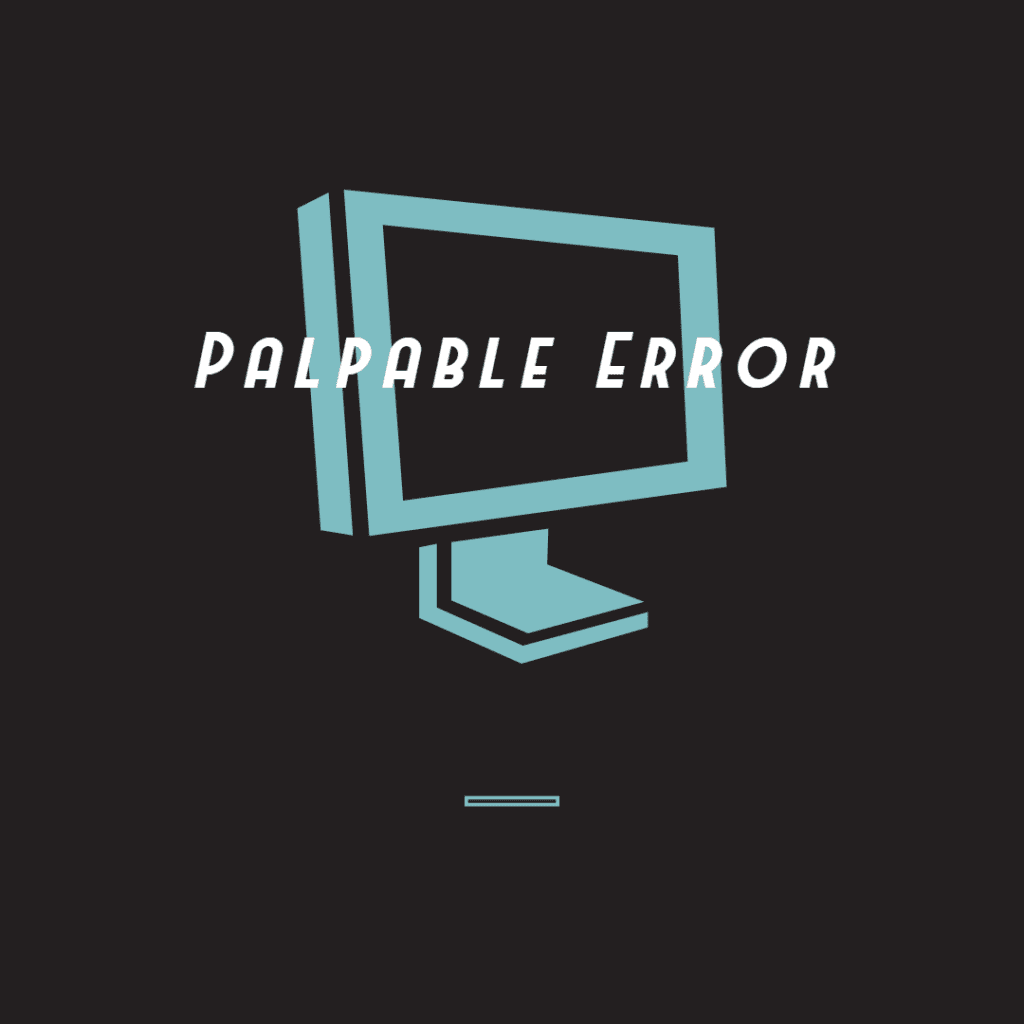 First, a quick review of arbitrage betting or sure bets. Arbitrage betting occurs when 2 or more bookies differ on the odds of an event. The difference is big enough where you can place a bet on all outcomes of the event and make a small profit. BetSlayer's website identifies the games, the bookies and does the math to determine if there is a betting arbitrage opportunity.
Wow! arbitrage betting sounds great. It is pretty cool. But, there are some pitfalls. Today, we will be discussing one of those pitfalls. Palpable Error or Obvious Error. A Palpable error occurs when a bookmaker has flipped the odds on a certain event. For example, the favorite is listed as an underdog or the favorites or underdogs odds are grossly understated.
Not to make anyone angry, but let's take an upcoming match Chelsea v. Aston Villa. Barring something crazy happening, we can expect Chelsea to be favored. Let say the odds to win (draw no bet) at most bookmakers look like this:
Aston Villa 4.0 (+300 for the Americans)
Chelsea 1.22 (-450 for the Americans)
In this situation, put up £100 on Aston Villa and return £400 (£300 profit) or put up £450 on Chelsea to return £550 (£100 profit). These odds make sense for these two teams and the expected outcome of the game. But, occasionally, the bookmakers flip the odds by mistake. Let's say William Hill, a well known and reputable bookmaker, flips the odds to:
Aston Villa 1.22
Chelsea 4.0
But, LadBroker's has the odds the correct way at:
Aston Villa 4.0
Chelsea 1.22
Between these two bookmakers, a huge betting arbitrage opportunity exists. If you put £100 on Chelsea at William Hill and you put £100 on Aston Villa at LadBrokers, then you have £200 at risk, but your payout is guaranteed at £400 (assuming the match isn't a draw). The £200 guaranteed win computes to a 100% return on your bet without any risk. Nowhere in the world is there a 100% return without any risk. Certainly, not in any betting arbitrage scenario.
So, what happens? Most likely, William Hill will recognize this error. They will call it a palpable error and void the bet.
Uh oh, I already placed the other side of my arbitrage bet at LadBrokers. What do I do now? William Hill's timing to reverse the bet is the key. There are three scenarios:
William Hill voids the bet before the match starts – This gives you an opportunity to hedge your Aston Villa bet. Since the match did not start yet, you can look for the best odds at another bookmaker to hedge on Chelsea. Let's say you can find Chelsea 1.28 at Paddy Power and put up £312 that returns £399 for a profit of £87. If Chelsea wins, you have minimized your loss from £100 (original bet on Aston Villa) down to £13 (£87 win on Chelsea – £100 loss on Aston Villa). If Aston Villa wins the match, you will lose £12 (£300 win on Aston Villa – £312 loss on Chelsea). If the match is a draw, then no harm no foul as both bets return to you. Below is visual presentation of this hedge scenario: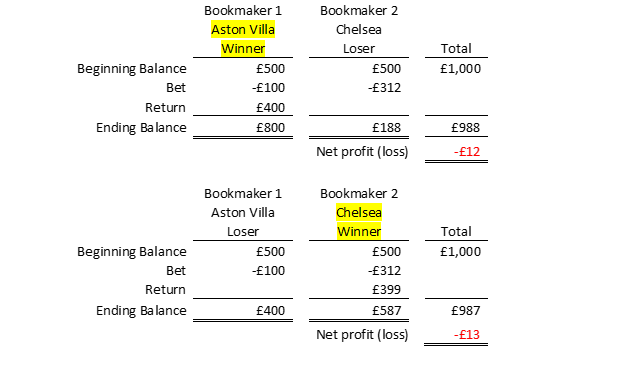 2. William Hill voids the bet during the match – This is a little trickier. Many bookmakers have in-game wagering. During the match, you will be offered a moving line as the bookmakers continually adjust the odds based on game action. You can find a line to hedge your loss as discussed above. Or there may be an opportunity to execute a profitable arbitrage.
In the arbitrage scenario, let's say Aston Villa scores 25 minutes into the match. After the goal, the odds that Aston Villa wins and Chelsea loses changes. So, the in-game wagering could look like Chelsea 1.4 (instead of the pre-game odds of Chelsea 1.22). Now, you have an arbitrage opportunity.
You could place an in-game bet on Chelsea of £287 to return £401 (a profit of £114). So, if Chelsea comes back to win the match, you win £114 on the in-game Chelsea wager and lose £100 on the originally Aston Villa wager. This nets you a profit of £14. On the other hand, if Aston Villa holds on and wins the game, you will receive £400 (£300 profit). The £300 profit on Aston Villa less the £287 in-game wager on Chelsea nets you a profit of £13. You now have a good arbitrage bet in place where you win no matter which team wins the match.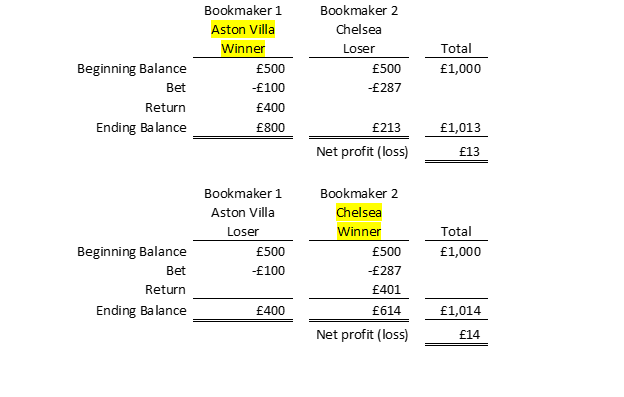 3. William Hill voids the bet after the match – Here you are SOL. Can this happen after the match is over? Sure, most bookmakers include the ability to void a bet especially in the case of a palpable error.
So, what does this all mean? It means be aware of the really good-looking betting arbitrage returns. Anything 10% or greater is at great risk to be called a palpable error. When your arbitrage return is under 10%, the chance that a bookmaker will call a palpable error declines dramatically. BetSlayer's website clearly identifies the percentage return to help you navigate your way through this potential pitfall.
As always, comments and questions are encouraged. Happy Arbing!
Since you made it this far, please feel free to sign up for the free, no credit card required 7 day free trial.  When you are ready to get access to all of BetSlayer's system, use code GO19 to get £30 of your first month (£49 per month thereafter).