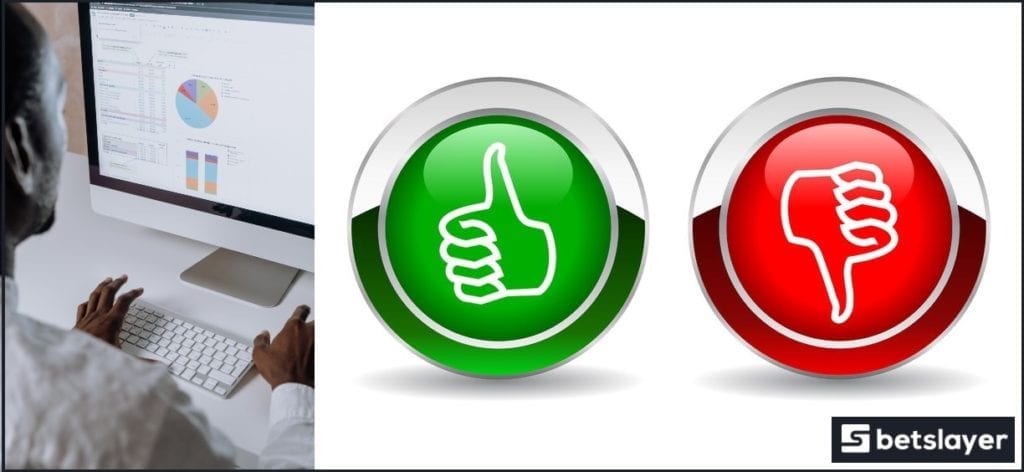 At BetSlayer, we get asked a lot of different questions around the sure bets or arbs.  These handy do's and don'ts apply to not only BetSlayer but to our more expensive competitors.
1. Don't Place a Bet without Checking the Odds First!
Before placing any bet, Always, ALWAYS! check your odds at the bookies versus the odds on the arb website.  Every arb provider has false positives.  This will happen when the bookies update their odds before the arb website.
2. Do Watch Before Jumping In
A common mistake is to start arbing right away. We know that you're excited to get in on the sure bet opportunity. However, it is a good idea to watch the sure bets. Go to the bookies websites and make "fake" bets first. By waiting you can start tracking which bookies work best for you; later you can take advantage of funding bonuses and then start arbing.
BetSlayer has a 7-day free trial.  This helps customers get acclimatised to the bookies and exchanges that they want to use.
3. Do Try and Round Your Bets to the Nearest 5 or 10
Some of the bookies do not look to fondly on arbers.  So, you want to keep a low profile.  Start with smaller bets under £100 and try to round your bets to the nearest 5 or 10.  Also…
4. Don't Bet Pennies
Make sure you round your bet to the nearest pound.  While you may not perfectly maximize the arb opportunity, betting pences is an arbing red flag for the bookies.
5. Do Give Some Back to the Bookies
If you are consistently winning at the same bookie, it is important to throw in a loss or two for smaller amounts of money.  While this may eat into some of your profits it will help reduce the risk of getting limited by the bookies.  A 4 team+ parlay is a good option for giving some quid back.  For every £100 of winnings, try a £10 parlay.
6. Don't Move Money In and Out of the Bookies
It's exciting to win money from the bookies.  However, it is important to keep the winnings held at the bookies for a decent amount of time.  Try to hold off on making too many withdrawals, aiming for one withdrawal every 3 months.  If you are moving money in and out of bookies it is a red flag.  You want to look like a punter not an arber.
7. Do Get a VPN
Some bookies limit the punter by geo-location.  To help increase your chances of placing sure bets, you should use a VPN.  There are a number of free and inexpensive VPN providers.  A VPN will give you the ability to switch from the U.K. to Hong Kong to Australia and even the United States.  We've experienced high success with ExpressVPN; here is a sign-up special offer and 30-day money-back guarantee.
8. Don't Quit Your Day Job
Arbing is a nice way to increase your overall income.  You can spend relatively small amount of time placing your sure bets.  You should however view this as extra income not your primary income.  Extra income from arbitrage betting can help you to catch up on credit card bills, buy extra Christmas or birthday presents, pay for a holiday or build up a rainy-day fund.  If you quit your day job, you will run the risk of being limited by the bookies with no warning and then you will have no income at all.  You should be very wary of any arbitage website that touts huge returns.
9. Do Watch the Time
The closer it gets to match-time.  The more likely the lines will move.  This will cause discrepancies between odds presented in the sure bets feed versus the odds at the bookie.  Most likely, the sure bet will not be there as odds are moving quickly.  This also brings us back to our first recommendation – Don't place a bet without checking the odds first!
10. Don't Get Frustrated
There are a number of factors that can affect an arbitage bet.  Fast moving odds, odds presented on your surebets site but not on the bookies website, arb % return not to your liking, etc.  Some days the presented sure bets on BetSlayer are great.  Some days the odds move or the odds are not on the bookies website and there can be some false positives.  Ensure that you don't get frustrated.  BetSlayer presents the top odds by bookie for each match.  So if the first bookie didn't work, see if the next bookie on the list will work.  Alternatively, if there is an over/under bet repeating that didn't work for a certain match, feel free to skip other over/under for the same match. 
The goal is to make some money each day. BetSlayer presents a lot of good, new sure bets every day. You will quickly gain experience to help identify good arbs quickly. The longer you put in the work the easier and more profitable sure betting will become.